Vem aí o novo CD do guitarrista e cantor JOHN PIZZARELLI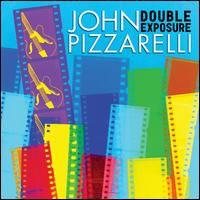 John Pizzarelli - Double Exposure
Telarc
3 1/2 stars
By Rick Anderson

On this album, jazz guitarist and singer John Pizzarelli pays simultaneous tribute to the pop music of his adolescence (Steely Dan, Billy Joel, the Allman Brothers, Elvis Costello) and the jazz tradition in which he, as a member of the celebrated Pizzarelli dynasty, was steeped from his earliest years. The album title refers to the fact that the program takes classic pop songs and puts them in jazz settings: thus you'll hear a cool bossa nova arrangement of Joni Mitchell's "Free Man in Paris," a completely natural lounge-lizard setting of Tom Waits' "Drunk on the Moon," and a hard-swinging, boppish version of James Taylor's "Traffic Jam" that sounds like it was written for Manhattan Transfer and incorporates the Joe Henderson composition "The Kicker." There's nothing particularly revolutionary about this idea: the line separating pop music and jazz has always been fuzzyish anyway, and many jazz standards are actually showtunes. But Pizzarelli is an unusually gifted arranger as well as a drop-dead wonderful guitarist, and on several of these arrangements he suggests entirely new ways of thinking about these familiar songs. Consider, for example, his subtly elegant use of organ and violin on Neil Young's "Harvest Moon," or the way he sneaks material from Wes Montgomery's "Four on Six" into a snappy rendition of the Allman Brothers' instrumental "In Memory of Elizabeth Reed." It's also true that Pizzarelli is not gifted with a conventionally beautiful voice. He is, however, an excellent singer: listen the how he makes the most of what he's got on his voice-and-guitar bossa nova setting of Billy Joel's "Rosalinda's Eyes." What's charming about this album, beyond the sheer quality of the songs and the arrangements, is Pizzarelli's obvious and genuine love for this really broad gamut of material, and his insight into the varied qualities that make them all great songs.
Fonte: http://www.johnpizzarelli.com/pizzarelliNews.html
Postado em: 04/04/2012
Comentários
Ainda não há comentários.
Deixe seu comentário
Deixe um comentário. É importante o preenchimento de todos os campos.